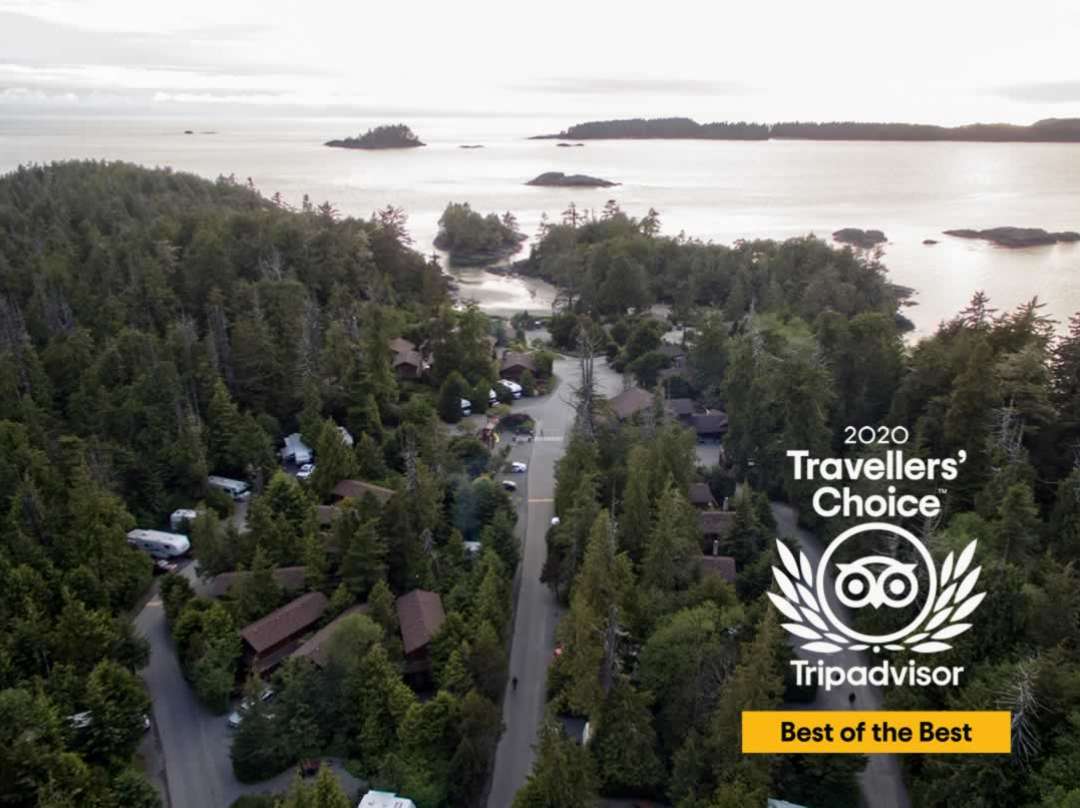 Tofino—a relaxed, seaside haven at the end of the road.
As RV enthusiasts know well, the journey is part of the adventure, and the jaw-dropping 3-hour westward drive from Nanaimo over the Port Alberni Summit delivers just that. Take a right at the fork in the road on Pacific Rim Highway and watch for spectacular Long Beach as you navigate through ancient rainforests towards Tofino, located at the end of the road on the shores of world-renowned Clayoquot Sound.
Carved out of nature just steps from the majestic shores of MacKenzie Beach, Crystal Cove Beach Resort is the RV park of choice for travellers that enjoy "roughing it" on the rugged west coast of Vancouver Island. From meticulously maintained year-round sites and facilities, to a Starbucks coffee in the office, welcome to an extraordinary RV camping experience.
RV Park Rates 2021 & 2022
Rates are based on two people, one RV per night.  
Please note that our RV Park caters specifically to recreational vehicles only and for this reason we are unable to accommodate tent camping or car/vehicle camping within our facility.
Check-in for RV camping begins at 1:00pm and check out no later than 11:00am.
Due to the extended time it now takes to clean with our new Covid-19 procedures these times are now firm with no early check ins or late checks out allowed at this time. Thanks for your understanding.
Off Season
(Jan 1 - May 14, 2021; Oct 12 - Dec 31, 2021)
(Jan 1 - May 12, 2022; Oct 10 - Dec 31, 2022)
$55

Peak Season
(May 15 - Oct 11, 2021)
(May 13 - Oct 9, 2022)
* 3 night minimum stay from June 11 to September 5, 2021
* 3 night minimum stay from June 10 to September 4, 2022
* See map below for site location

     Standard Sites

$75

     Superior Sites

$85

     Premium Sites

$95
Year Round - Additional persons 6 years and older:
$3/night
Year Round - Pet fee:

$10/pet/stay

Standard Sites are 5, 19, 20, 21, 22, 23, 27, 28, 29, 35, 36, 37, 39, 40 ,41
and all Eagle Crescent sites except for 90.

Superior Sites are 6, 7, 24, 38, 45, 46, 51, 53, 54, 55 & 90.

Premium Sites are 4, 8, 9, 18, 34, 47, 48, 49 & 50
Please note: On some sites, it may not be possible to fit both a trailer and tow vehicle at the site, but there are plenty of over-flow parking spaces near by.
RV Park Amenities
All RV sites are serviced with 30-amp power, water and sewer. Each site has a picnic table and fire-pit.

Enjoy complimentary hot showers and internet service throughout the Resort.

Our Bean at the Cove coffee bar offers Starbucks Brewed coffee, as well as a menu of specialty drinks and baked goods.

Firewood bundles are available for purchase at the Resort Office. You'll also find ice, post cards, laundry soap and information on Tofino adventures and restaurants.

The Resort Office features a selection of books, board games, puzzles and DVDs.

Our centrally located Adventure Playground is perfect for families with children.
---
Wanting to try RV camping, but don't have your own wheels? Experience Glamping in Tofino! We have ten Glampsites with 5th-wheel RV trailers that deliver that camping feeling with all the comforts of a cabin.
---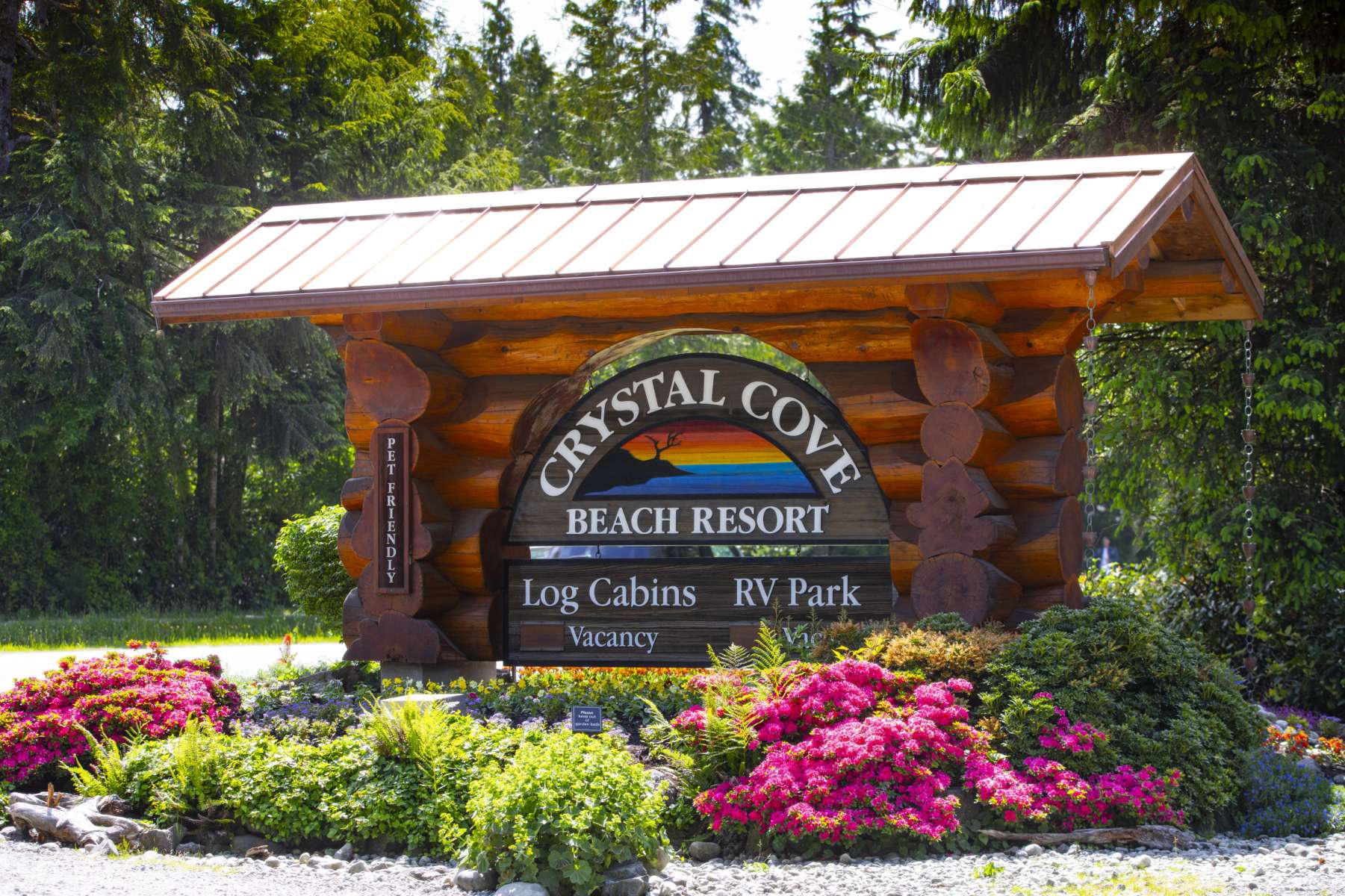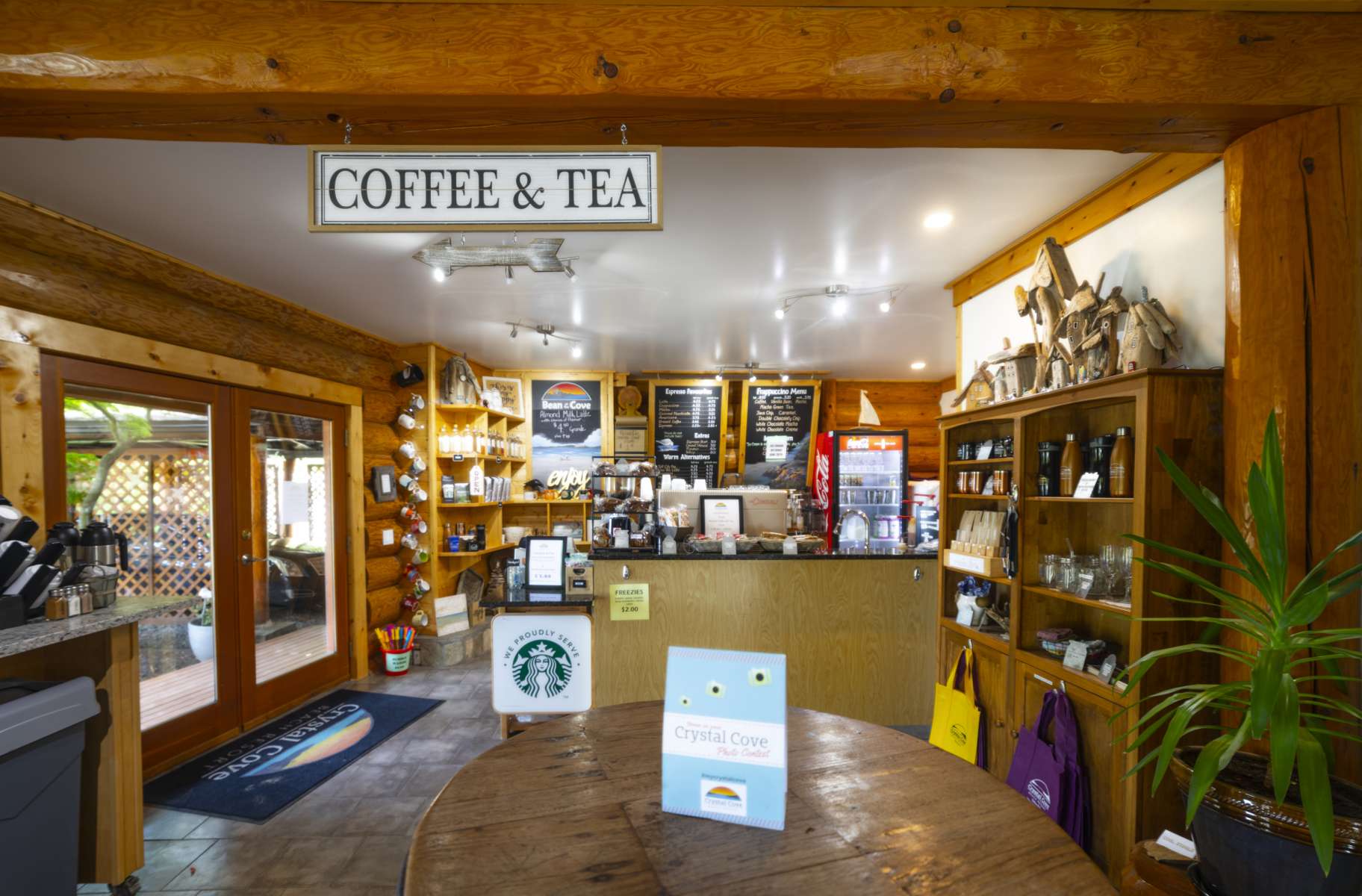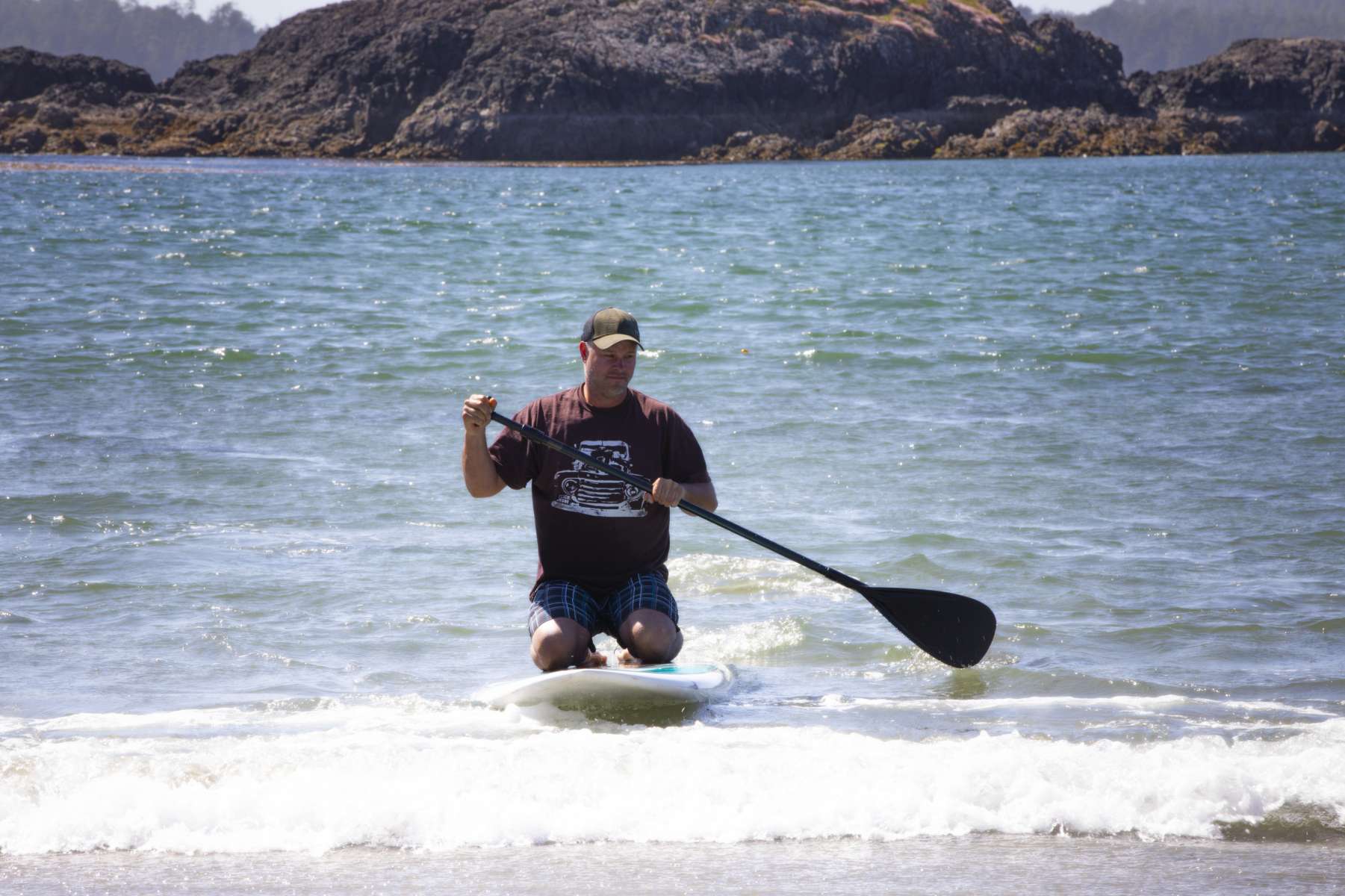 Plug in, then unplug and explore.
Once you're settled in, take a stroll through our gardens and make you way down to MacKenzie Beach for a beautiful outlook on your upcoming stay with us. Be sure to visit our Resort Office for suggestions on must-do Tofino experiences and restaurants. The office also has essentials like ice and laundry soap for our onsite laundromat.
From our award-winning family friendly facilities including an Adventure Playground, to pet friendly services complete with a dog wash station, your whole family is welcome here!
Recent TripAdvisor reviews of our Resort & RV Park:
"Diligent And Amazing As Always Crystal Cove and the team there have done an incredible job of ensuring guest protection within their abilities for the COVID-19 situation. Their signage and organization led to us having yet another wonderful vacation there while still maintaining social isolation from the other guests (which included many family members). I am an RN and I was confident in my safety from a COVID perspective at the resort. Many thanks to the Cove Crew for their diligence and excellent work!"  read more...
"RV Camping with kids. Honestly. We have been to many private and provincial campsites with our camper. The privacy between sites, the facilities, and the access to the wonderful beach is second to none. This is probably the BEST place we have stayed at ever with our camper."  read more...
"Beautiful resort. We brought our RV and stayed here for a week in May. The resort is beautiful. They really go all out on the landscaping and the location is amazing, right on MacKenzie beach."  read more...
"Top Notch! Beautiful place with a gorgeous beach! Large RV spaces which are private. Love the Starbucks & ability to borrow DVDs. Lovely upgraded park for the kids & organized events. Welcoming & cozy lobby. Reasonable rates & a nice walk to downtown Tofino and / or food options."  read more...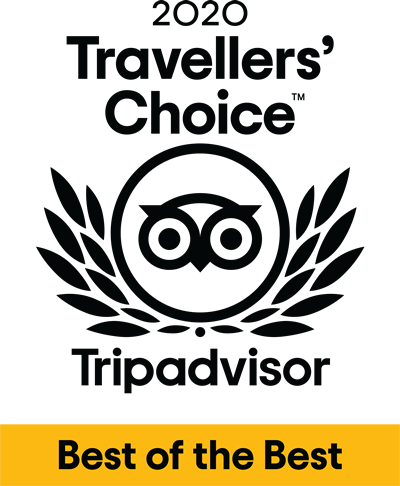 Reservations and Cancellation Policy
For advanced bookings there is a 3-night minimum during peak season and 2-night minimum during low season. Full payment is required at time of booking. Notice of cancellation must be received 14 days prior to arrival date for a refund, less a $40 administration fee. There are no refunds within 14 days of arrival or for early departure.
Check-In & Check Out
Check-in for RV camping begins at 1:00pm and check out anytime before 11:00am.
Due to the extended time it now takes to clean with our new Covid-19 procedures these times are now firm with no early check ins or late checks out allowed at this time. Thanks for your understanding.