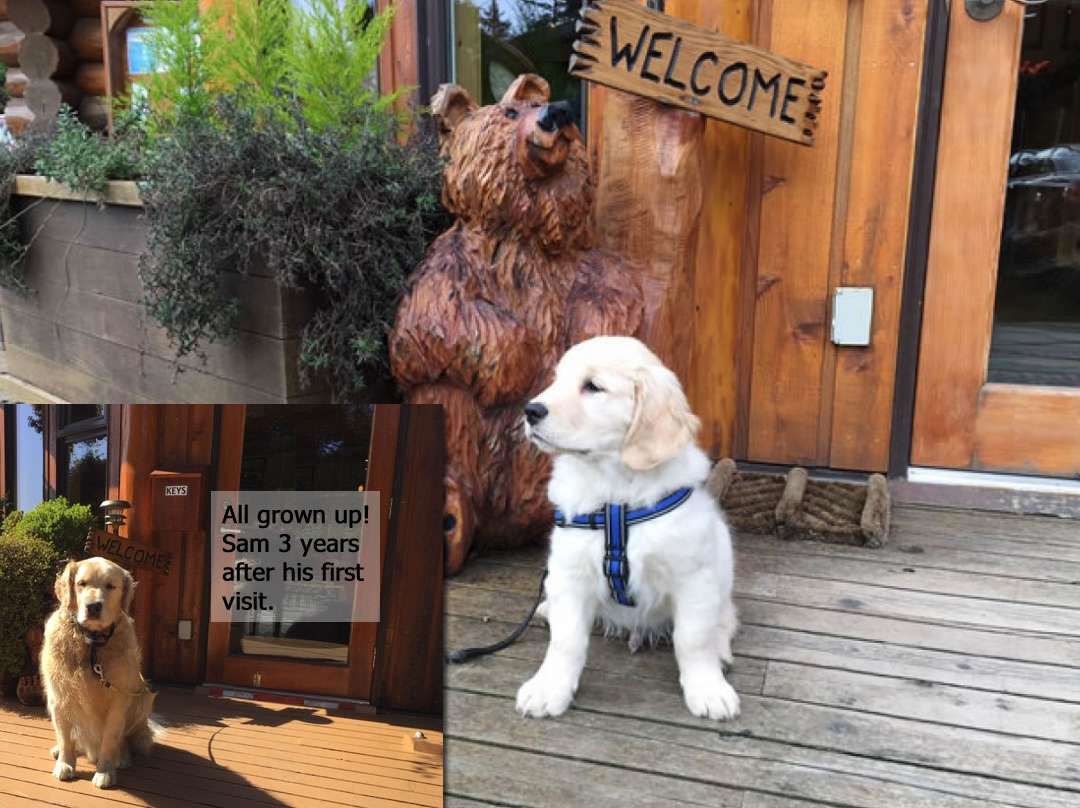 Hospitality isn't just for humans!
We get that dogs are more than pets, they are part of your family and 100% welcome to stay in the cabins, RV Park and Glamping RVs at Crystal Cove Beach Resort. To make your furry friends feel right at home, we provide towels, blankets and doggy bowls for our cabin and glamper guests. We also have a dog wash station near the beach entrance so you can rinse of the sand and salt water after playtime, and complimentary dog bags are located around the Resort.
Pets are particularly welcome in the office where they will be sure to receive lots of pats and attention from our staff. We may even have some treats for pets who ask nicely. We do ask all pets to please keep your owners on a leash and under control—we don't want your humans wandering off on their own! 
Pssst! Humans, please let us know when you make your reservation that your pets are coming so we can be sure to have everything ready for you.
Request Cabin Availability   or you can view each of our cabin styles here.
Pet policy:
In an effort to ensure the peace and tranquility for all guests, we ask for your assistance with the following:
Pets are welcome in all our cabins and Glamping RVs for a $50 fee per pet, per visit ($60 in 2024).

There is a $10.00 fee per pet, per visit for pets in the RV Park.

Maximum of two pets in cabins and Glamping sites; at management's discretion.

Pets must be in a leash while on property.

Please do not leave your pet unattended at the resort.

Please use the dog bags to clean up after your pets.

Please use dog towels that are provided to dry off your pets.

To minimize the disruption of other guests, we ask that barking dogs be attended to.
 
Recent TripAdvisor reviews of our pet friendly Tofino accommodation:
"Add to your Bucket List! Heaven for Humans and Dogs! There are not many gorgeous resorts you can spoil your furry kids at... but even if you have no kids, furry or not, you need to enjoy an ocean view cabin at the Crystal Cove Resort. I would add this to your Canadian adventure - and highly recommend staying at this resort. The joys of nature with the balance of modern amenities to give you the best stressfree relaxation you will ever need. I plan to make this a yearly vacation with my pooches."  read more...
"Always amazing!!! My husband and I and our dog go every year....we just returned from Crystal Cove staying in our favorite beach front cabin! The place is amazing....dog friendly and so nice they cater to our dogs, with dog towels, a dog blanket , poop bags and a doggy wash station....a lovely new addition this year was a plastic dog bowl to use during our stay! "  read more...