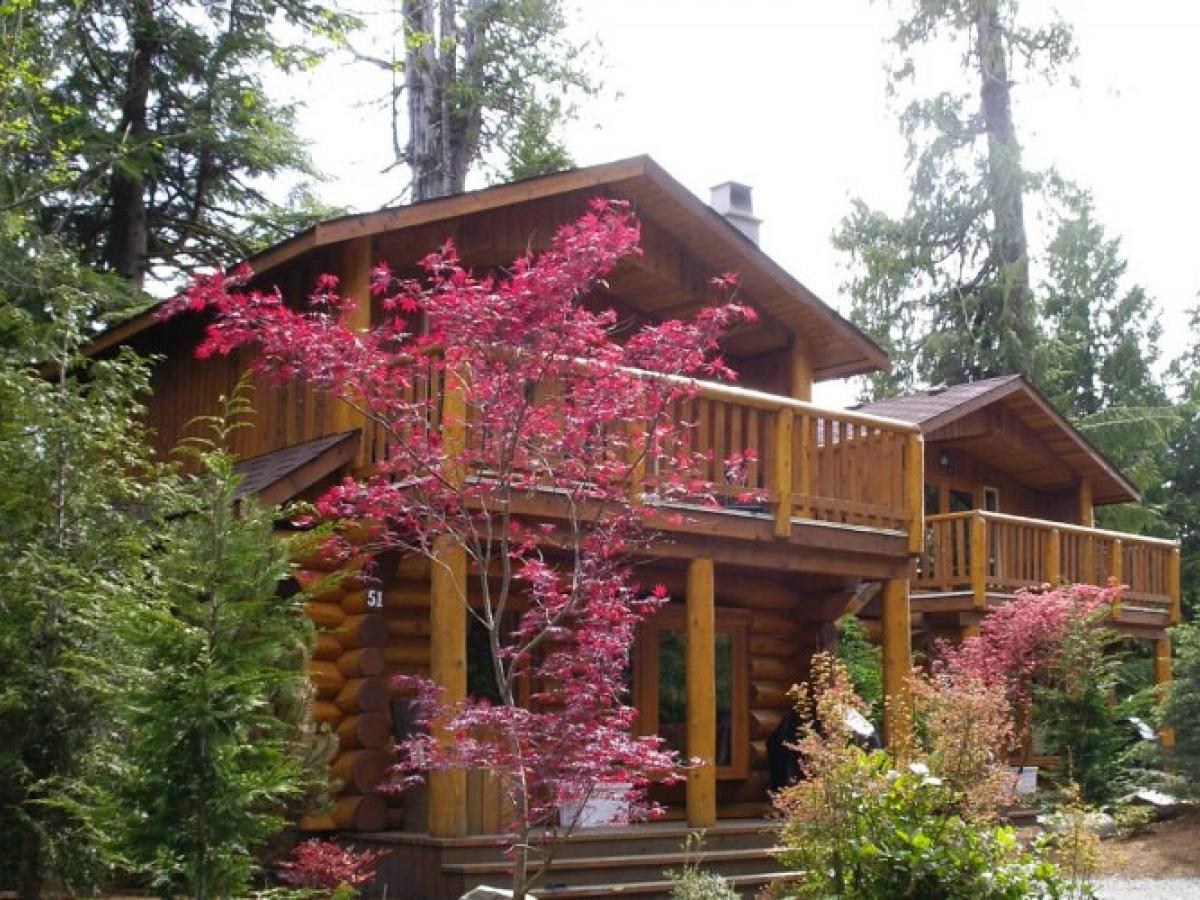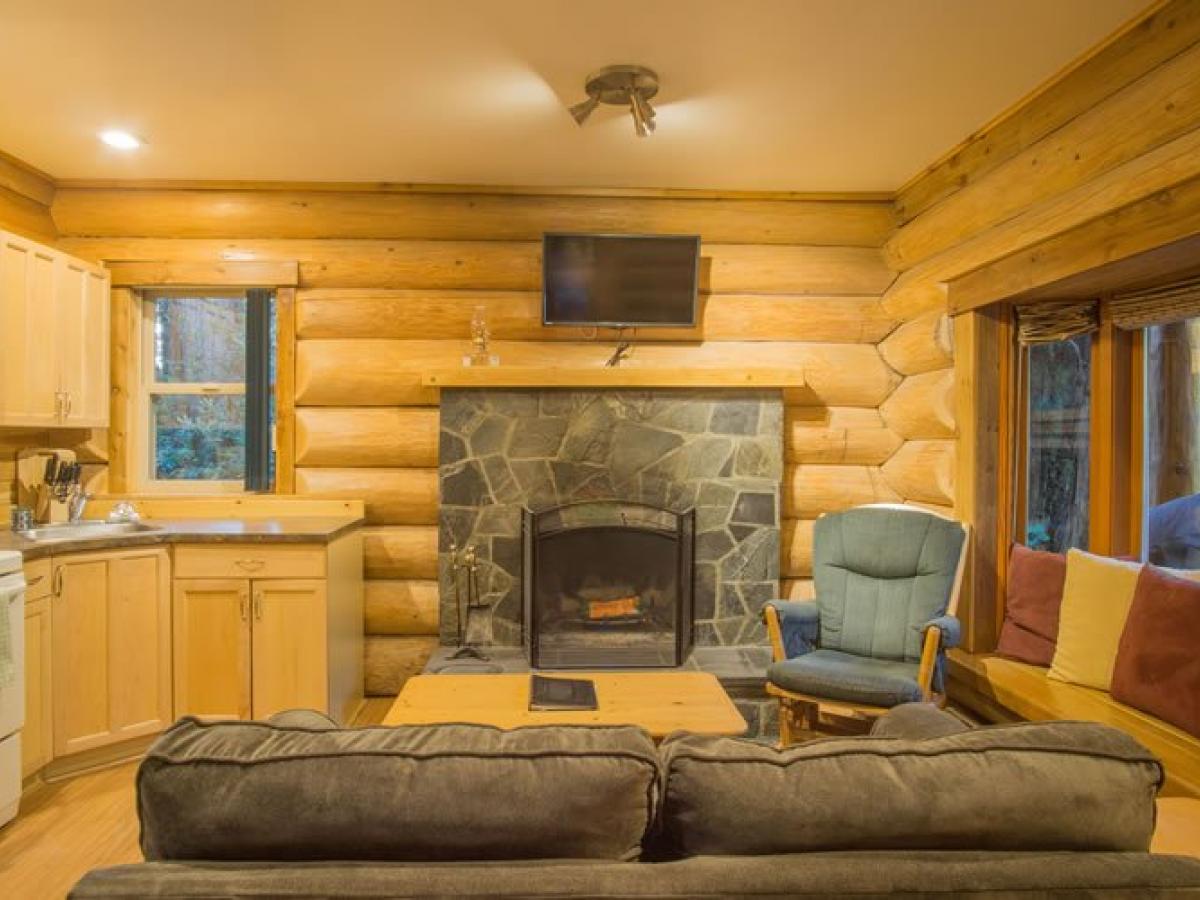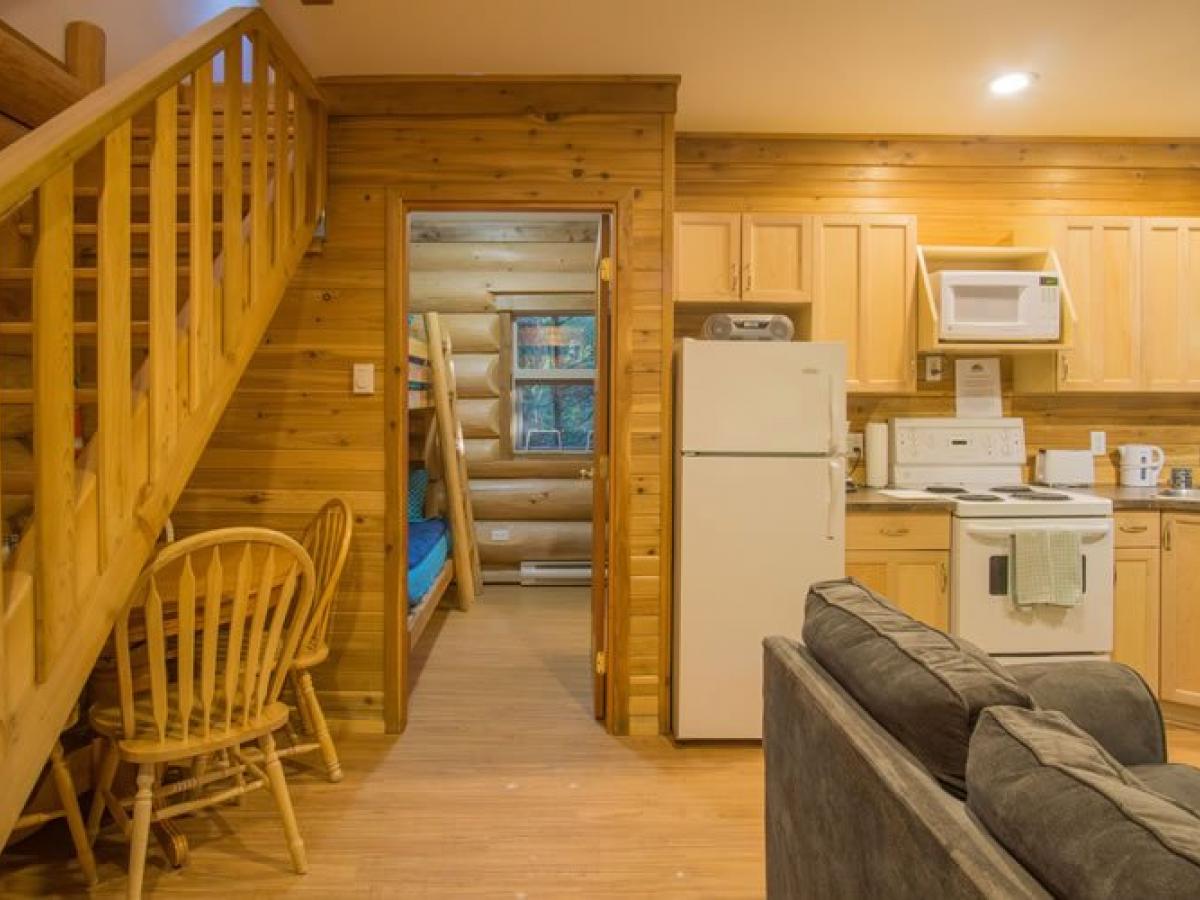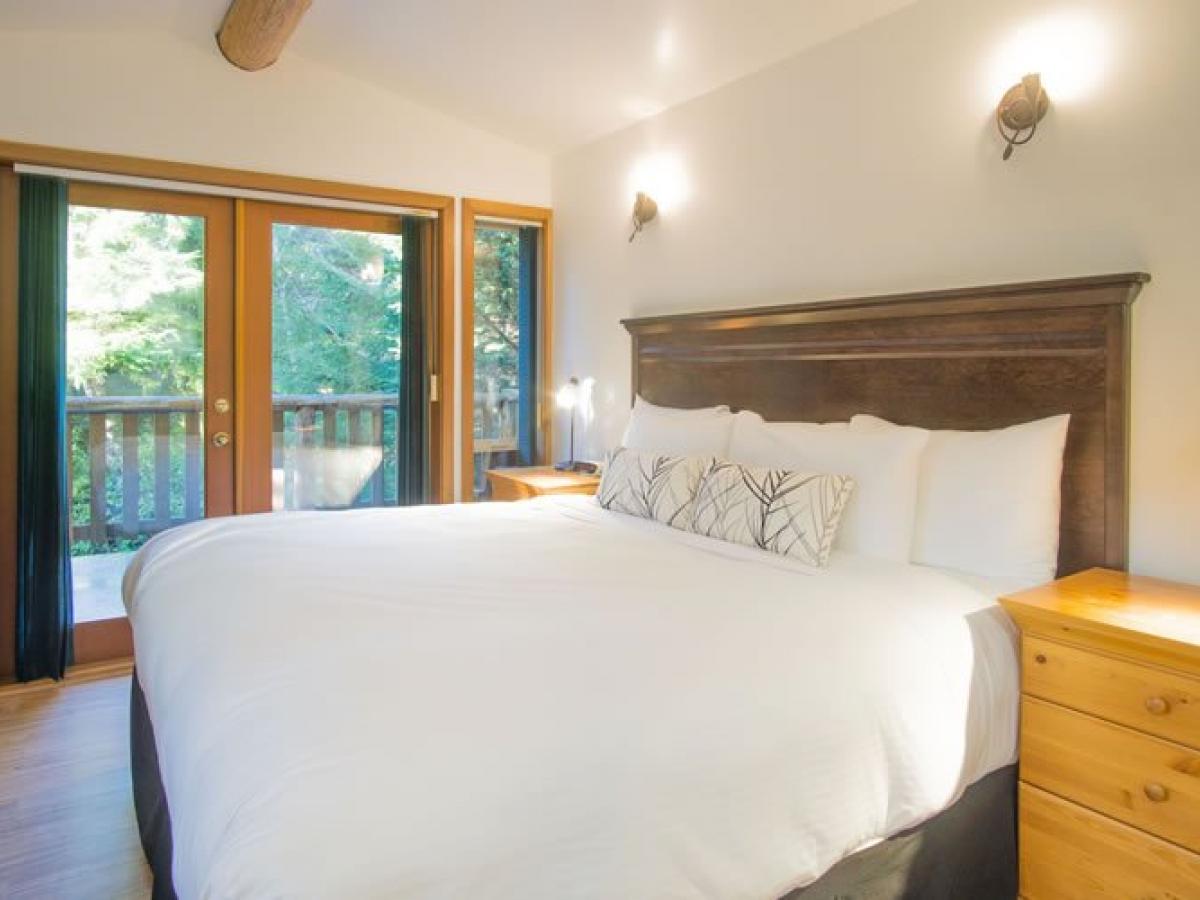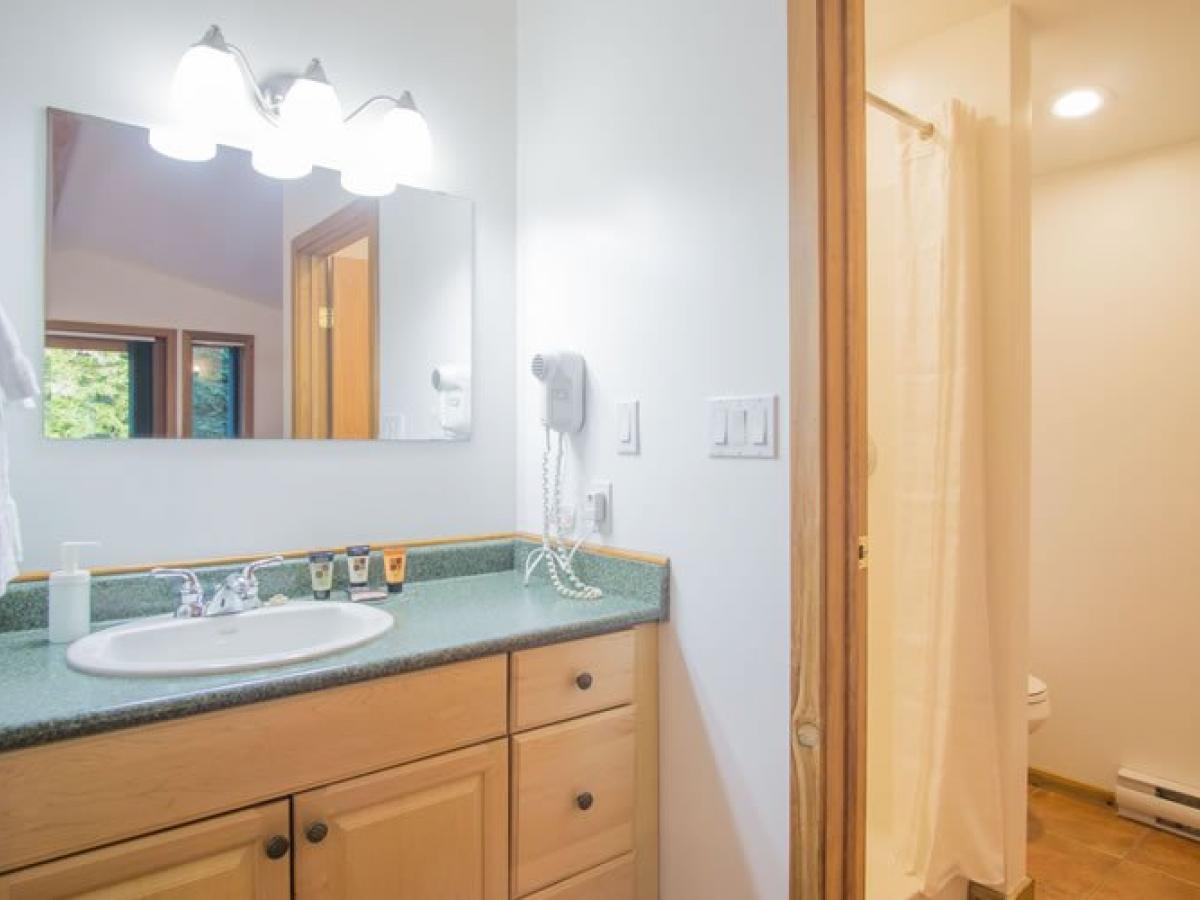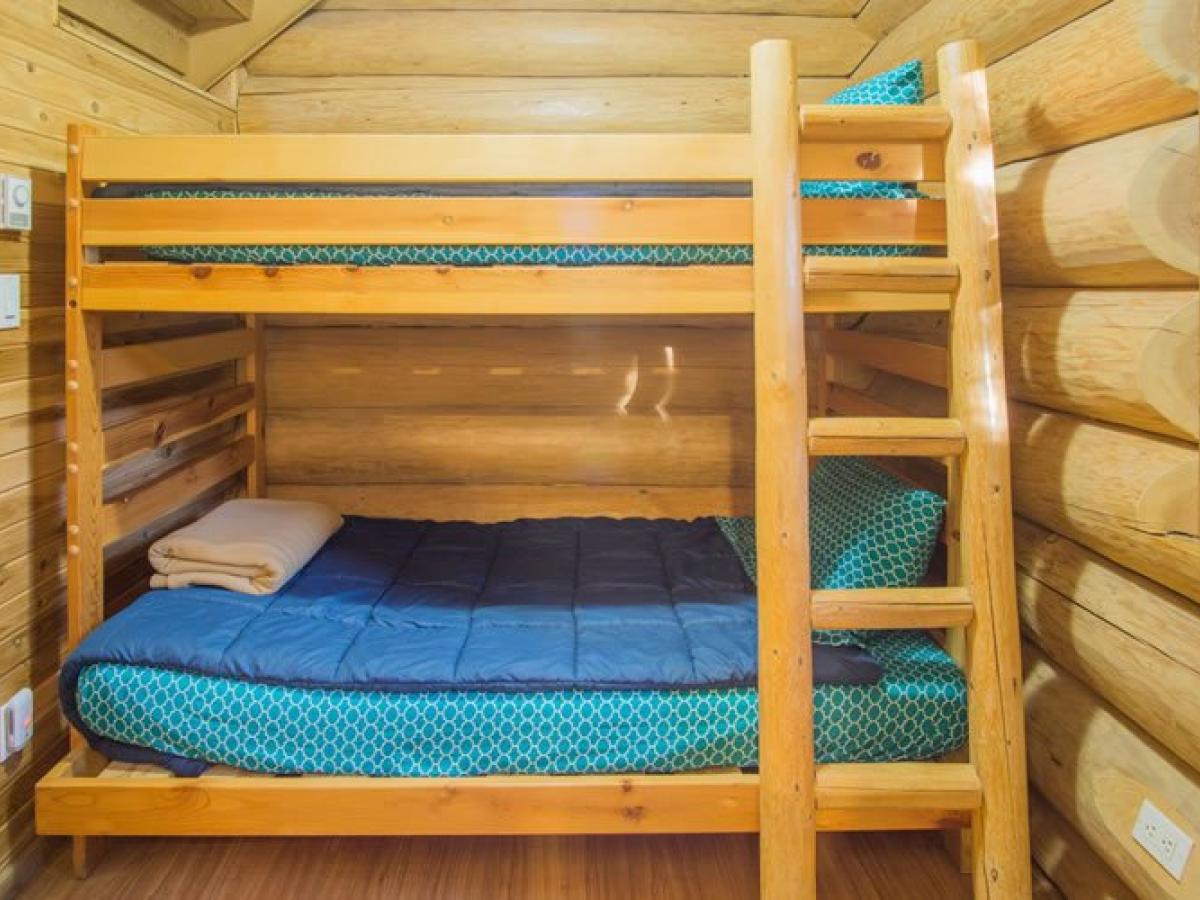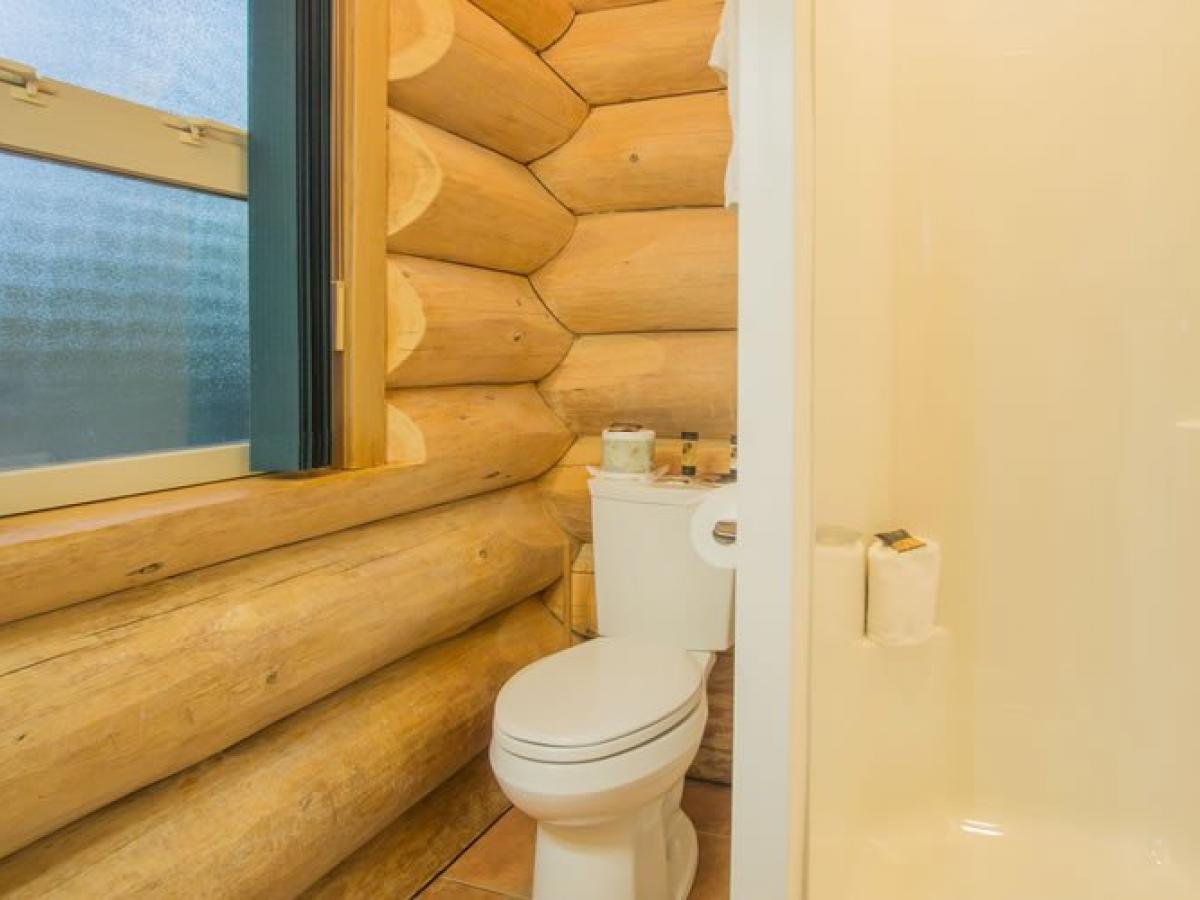 This spacious, two-story cabin sleeps a maximum of 2 adults and 2 children; perfect for small families. The main floor features a bedroom with bunk beds and a bathroom with a shower. There is a full kitchen with access to a Weber BBQ on the lower deck, and a wood-burning fireplace in the living area along with a flatscreen TV/DVD combo.
The upper floor features a spa-like master suite complete with heated tile floors, a large soaker tub and King bed. French doors open onto a covered balcony with 2 lounge chairs, an electric fireplace, a TV/DVD player and a second bathroom with a glass shower. The highlight is an 8-foot cedar barrel sauna on a second story platform, nestled amongst the cedars off the master suite.
Please note as of May 1, 2020, our Treehouse Cabins will change to Sauna Cabins. The treehouses will be removed and replaced by barrel saunas. Heated tile flooring will be installed upstairs, as well as new vanities, glass showers and the jacuzzi tub will be removed and replaced with a new soaker tub. The roof line will also be extended to cover more of the upstairs deck. As such the rates will change in accordance with these upgrades to the following: Low $280, Moderate $310, Shoulder $360, Peak $430. These new pricings will come into effect May 1st 2020.
Cabin Rates 2020
All rates are based on double occupancy, per night, and do not include taxes. Extra adults - $20, children 6-16 - $10, under 6 yrs. - free.
Pets $30 each per stay.
Low Season (2020)
$240Sundays through Thursdays;
Jan 5 - Feb 27, 2020;
Nov 15 - Dec 17, 2020
(excluding holidays & weekends)
Moderate Season (2020)
$270Mar 1 - Mar 12, 2020;
Mar 29 - May 14, 2020;
Oct 12 - Nov 14, 2020;
(excluding holidays & weekends)
Shoulder Season (2020)
$330May 18 - June 11, 2020;
(including selected busy weekends & Spring holidays March 13-28)
Peak Season (2020)
$390April 8-12, 2020;
May 15-17, 2020
June 12 - Oct 11, 2020;
Dec 23 - Dec 31,2020;
(long wknds & holidays)
Cabin Rates 2021
All rates based on double occupancy, per night, and do not include taxes
Extra adults - $20, children 6-16 - $10, under 6 yrs. - free
Pets $30 each per stay
Low Season (2021)
$280Sundays through Thursdays;
Jan 3 - Feb 28, 2021;
Nov 15 - Dec 16, 2021
(excluding holidays & weekends)
Moderate Season (2021)
$310Mar 1 - May 13, 2021;
Oct 11 - Nov 14, 2021;
Dec 17 - Dec 22, 2021;
(excluding holidays & weekends)
Shoulder Season (2021)
$360March 12 - March 27, 2021;
May 14 - June 10, 2021
(Excluding weekends, long weekends & holidays)
Peak Season (2021)
$430June 11 - Oct 10, 2021;
Dec 23, 2021 - Jan 2, 2022;
(long weekends & holidays)